Here are highlights from this month's issue: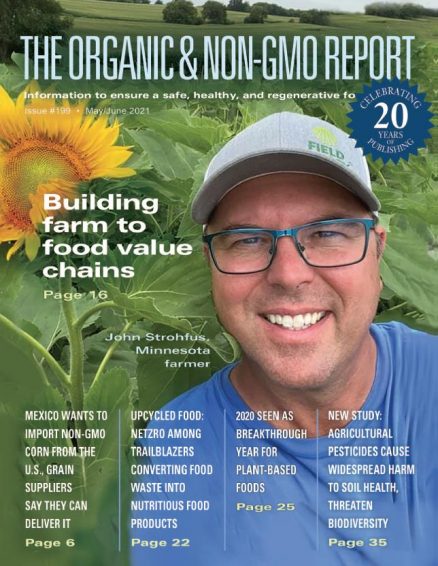 Celebrating our 20th year in publishing!
Mexico wants to import non-GMO corn from the U.S., grain suppliers say they can deliver it
While U.S. agribusiness groups are trying to pressure Mexico into abandoning their announced bans on glyphosate herbicide and imports of genetically modified corn, U.S. grain suppliers see an opportunity to supply Mexico with non-GMO corn.
Simple Mills' direct trade program benefits farmers, encourages regenerative ag practices
Food company disrupts commodity agriculture system by contracting directly with farmers and incentivizing regenerative practices.
Upcycled food: NETZRO among trailblazers converting food waste into nutritious food products
Minneapolis-based NETZRO is upcycling spent grain from several breweries into a dense, high protein/high fiber flour for use in baked goods.
2020 seen as breakthrough year for plant-based foods
Data recently released by the Plant Based Foods Association and The Good Food Institute shows U.S. retail sales of plant-based foods continued to increase by double digits in 2020, growing 27% and bringing the total plant-based market value to $7 billion.
New study: Agricultural pesticides cause widespread harm to soil health, threaten biodiversity
A new published study finds that pesticides widely used in American agriculture pose a grave threat to organisms that are critical to healthy soil, biodiversity and soil carbon sequestration to fight climate change.
Get The Organic & Non-GMO Report
---
---